Parent Update - 6th November 2020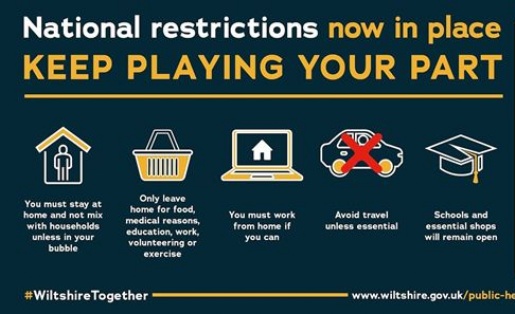 Dear Parents, Carers and Students
I hope that you and those around you remain well and you have been able to enjoy some rest over the recent half term break. It is again really pleasing to see our students return to school. I am writing to inform you of some timely reminders and important updates to our procedures as a result of the new November lockdown restrictions that came into effect yesterday and Wednesday's updated Department for Education guidance for schools and childcare settings (to be in place by Monday 9th November).
I have no doubt that the combination of the Covid-19 safety measures we put in place back in September, the excellent response from our students to adapt to our new ways of working, the incredible work of my staff and your invaluable contribution in fulfilling your civic duty to keep others safe in our local community all contributed to us being able to remain open to all year groups for the entire last term. We are totally committed to doing everything that we can to keep our young people learning in school during this second lockdown and we will do our utmost again in the weeks ahead of term 2.
Key messages in this letter:
Latest DfE guidance/additional school measures during the November lockdown
Reducing the chance of Covid-19 transmission – The Corsham School Stay Safe Pledge
Changes to our Face Covering policy as a result of lockdown restrictions/rising Covid-19 cases.
A reminder about Covid-19 Symptoms, Testing and Self Isolation
Changes to DfE guidance/additional school measures during the November lockdown
The latest Department for Education guidance for schools and childcare settings during the November lockdown (to be in place by Monday 9th November) was updated on Wednesday. The link to the full guidance is below:
New National Restrictions from 5th November: https://www.gov.uk/guidance/new-national-restrictions-from-5-november
Guidance for education and childcare settings: https://www.gov.uk/guidance/education-and-childcare-settings-new-national-restrictions-from-5-november-2020?utm_source=5%20November%202020%20C19&utm_medium=Daily%20Email%20C19&utm_campaign=DfE%20C19
Clearly, we have not had a long time to process this guidance but below is a summary of a few initial points to note:
Secondary schools will remain fully open during the lockdown period unless advised otherwise by Public Health England.
Clinically extremely vulnerable children and adults: More evidence has emerged that shows there is a very low risk of children becoming very unwell from coronavirus (COVID-19), even for children with existing health conditions. Most children originally identified as clinically extremely vulnerable no longer need to follow original shielding advice. Parents are advised to speak to their child's GP or specialist clinician if they have not already done so, to understand whether their child should still be classed as clinically extremely vulnerable.
Those children whose doctors have confirmed they are still clinically extremely vulnerable are advised not to attend education whilst the national restrictions are in place and schools will need to make appropriate arrangements to enable them to continue their education at home.
Children who live with someone who is clinically extremely vulnerable, but who are not clinically extremely vulnerable themselves, should still attend education.
If your child is in the clinically extremely vulnerable category you should have already been contacted by the school.
Face coverings should be worn by adults and pupils when moving around the premises where social distancing cannot easily be maintained.
This is already part of our expectations we introduced back in in September. However, we have further reviewed our position on face coverings – please see the separate notes below.
Practical subjects, including PE, Music, Dance, Drama and DT can continue as long as appropriate measures are undertaken.
We have already reviewed our risk assessments for these subjects to ensure we have the appropriate measures in place for them to continue as guided.
After school activities, including additional subject support sessions are able to continue.
Unfortunately, however, extra-curricular sport is not permitted unless it is necessary in order to support parents to be able to work.
This could be the case in Primary schools but is generally not the case in Secondary schools and is extremely disappointing for our students as our PE staff had planned to restart these activities this term.
Parents are able to form a consistent 'childcare bubble' with another household for the purposes of informal childcare, where the child is 13 or under. This may be beneficial for parents of younger students.
Visitors (including parents) should only come onto the school site when it is absolutely necessary. Wherever possible discussions with the school should take place over the phone (or video call) as appropriate.
Reducing the chance of Covid-19 transmission – The Corsham School Stay Safe Pledge
As you will no doubt be aware from the news, although the number of positive cases in Wiltshire remains low relative to other parts of the country, there has been an increase in Covid-19 cases in our area and it is more important than ever for us to do what we can as part of the National lockdown to continue protecting each other from Covid-19 positive contacts in the hope we all remain safe and our school keep our school remains open.

We want to reduce the chances of this happening as much as possible, as well as protect everyone in our community from illness. It is therefore essential that every member of our community must take their share of the responsibility for this, and it is important to remind you of some of our key expectations so that you can reinforce them at home:
Students should practise good hand hygiene, sanitising hands on the way into and out of school, on their way into and out of every classroom and before and after eating.
Students should follow any classroom and/or learning cleaning guidance by cleaning any shared equipment/space as instructed by their teacher.
Face coverings must now be worn by pupils at all times when inside (now including in lesson time), when moving around the premises outside between lessons and at the start/end of the day where social distancing cannot easily be maintained and when on school or public transport.

Mask can be removed when:
Students are eating or drinking
Students are outside at break and/or lunch on the field/playground where social distancing can be maintained.
Students are engaged in physical activity as part of PE lessons
Students must take care when moving around the site, follow our safe building/zone entry and exit points, and only socialise in their dedicated year-group spaces at break and lunchtime.
At all times, students should still do what they can to socially distance from each other outside classrooms and reduce direct contact with other students.
Clearly, this is a time with new lockdown restrictions where we need to be doing all that we can, at a time of great national effort, to tackle the virus together. In particular, I ask that students should travel to and from school only with members of their household or their own year group bubble and should practise social distancing. Pupils should not be stopping in the community to socialise in groups.
Changes to our Face Covering policy as a result of lockdown restrictions/rising Covid-19 cases.
You will recall from my letter back in September that the Government changed its position on the use of face coverings in schools; making them mandatory for schools in local lockdown areas and giving other schools the discretion to require face coverings to be worn in communal areas if they believe that is right in their particular circumstances. Although we weren't in a local lockdown area, I decided to make the wearing of these mandatory for staff and students when they were inside buildings (except in lessons) and when moving about the site for their enhanced safety as part of our safer reopening plans.
However, following the changing position of the government again, making the wearing of face coverings mandatory for all pupils and adults in schools when moving around the premises, outside of classrooms, such as in corridors and communal areas where social distancing cannot easily be maintained, a requirement we have had in place since September, I have reviewed our face covering expectations again.
In reviewing the National and local rising incidence of Covid-19 cases and in endeavouring to keep our children, staff and you safe whilst remaining open, moving to wearing a face covering at all times (except for those times listed earlier/above) would be a sensible next step in our efforts to enhance our protective measures and continue to stay a step ahead of keeping on top of transmission rates in our community.
All previous guidance on types of face covering and their safe hygienic storage at break/lunchtime remains the same, as does our existing guidance for those who are medically exempt form wearing a mask. I again request that you supply your child with a washable reusable fabric face covering instead of a disposable one. We are still having to dispose of a significant number of used disposable masks on a daily basis which is a Health and Safety concern and disastrous on our environment.
A reminder about Covid-19 Symptoms, Testing, Self Isolation and Test & Trace
A reminder that students should self-isolate at home and book a coronavirus test if a student develops one or more of the main coronavirus symptoms:
a high temperature
a new, continuous cough
the loss or change of their sense of taste or smell
Testing can be arranged via https://www.nhs.uk/ask-for-a-coronavirus-test or by calling
119. There is no need for other members of their household to have a test, unless they are also symptomatic.
All other household members who remain well, must stay at home and not leave the house for 14 days. This includes anyone in your 'Support Bubble'. The 14-day period starts from the day when the first person in the house became ill. Household members should not go to work, school or public areas and exercise should be taken within the home.
Further information is available at: https://www.gov.uk/government/publications/covid19-stay-at-home-guidance/stay-at-home-guidance-for-households-with-possiblecoronavirus-covid-19-infection
We are still getting quite a few queries from parents where their children have been 'in close contact' with someone who has been asked to self-isolate, or who has been 'in close contact' with someone who has displayed symptoms but has not (yet) tested positive for Covid-19. Unless students are asked to self-isolate by the school OR NHS Test and Trace (as they have been in close contact with a confirmed positive case themselves) then they do not need to self-isolate and should continue to come to school.
I'd like to finish by again praising our wonderful students, who continue to show real maturity and resilience at this difficult time in doing all that we are asking of them. It is so sad not to be able to offer the breadth and richness of educational experience that we all strive for, and look forward to the day when we can do so again.
Again, apologies for the length of this letter but it's important to update you on such matters.
Thank you for your ongoing support.
Take care
Rod Bell - Headteacher