Coronavirus Update 3rd April – 'Crisis doesn't create character; it reveals it.'
Coronavirus Update 3rd April – 'Crisis doesn't create character; it reveals it.'
Dear Parents, Carers and Students,
Firstly, I hope that you are all well and coping as best you can in the current situation.
It seems hard to believe that we have only been living in our 'lockdown' for two weeks, so
much so that it is easy to forget that, in normal times, I would be writing to you at this point in the year with my end of term 4 letter where I usually acknowledge and celebrate the achievements of students over the last term and provide you with some important updates for the summer terms. I hope you will understand that our circumstances dictate that this letter is somewhat different.
Whilst reflecting on the last few weeks, the challenges we are facing and remembering that the 20th April marks my 3-year anniversary of joining The Corsham School, I want to focus on recognising and celebrating the amazing community that we are part of, as well as giving a few notices and contemplating the rainbow, a symbol of hope that has become particularly important to people lately.
Here at The Corsham School one of key areas we have been keen to develop with young people and their families is character development. That is the set of values and principles that guide us in our lives. A very wise person said to me that a person without character is like a ship without a rudder, just sailing around without any real direction. In the years leading up to the current crisis we have worked together with our young people on knowing ourselves, our values and what we really believe in. Young people at The Corsham School have time and time again been showing real strength of character, often doing the right thing at the right time when that is also the hardest thing to do.
It's in times of crisis like now that we all draw on our sense of self; who we are and what we believe in. Denis Leary once said: "Crisis doesn't create character, it reveals it." This is a great way of summing up my thoughts right now where we are seeing the true measure of every individual. I'm completely confident, having seen our young people in our community at work over the last three years, that amazing strength of character will be revealed through this adversity over the next few weeks and months.
One of The Corsham School's core values is respect. It's time now to pay respect to the incredible people we are watching step up to the plate as this situation continues and progresses.
The young people of The Corsham School have shown themselves to be truly amazing. We have seen a real sense of purpose in our students. They've completed hundreds of online tasks and really given our teachers a run for their money with online learning. As well as this, we have had numerous accounts of the young people within families taking responsibility for aspects of everyday life. As this lockdown goes on, I remain incredibly proud of each and every student.
Next, let's celebrate the parents, carers and families of our students. I know from personal experience that it's such a difficult time for you as you juggle work, home and parenting concerns. But we have watched the adults in this situation really rise to the occasion and cope tremendously with the numerous new home learning demands, while shielding your children from the incredible worries of work, finance and health. I applaud you for doing the very best that you can for your families.
I have to pay special credit to my amazing staff. Clearly, those who keep coming in and putting themselves at risk to provide a service to the essential workers and our vulnerable children need praise. They include the supervising teachers and support staff, the site team, the canteen staff, the office staff and the senior staff. The armies of teachers and pastoral staff working tirelessly behind the scenes setting and reviewing work, making well-being calls each day to keep in touch with our families that most value this support also deserve to be recognised and warrant great credit.
The Corsham community have also proven themselves to be amazing in caring for each other and their vulnerable neighbours. We are grateful to the Corsham Churches Food Bank, the Churches and their volunteers for their invaluable charitable service at this time and for the other essential shops and their workers who remain open providing a great service to us all. Thank you.
Nobody can have failed to be moved last night and last Thursday at 8pm when many of you stood and clapped from your doorways in unison with many around the country to honour our amazing NHS staff and carers; we thank you from the bottom of our hearts. But let us not forget all the other essential workers going about their business in the Great British tradition of not fussing and just getting on with it.
Finally, in this list, no matter what your politics are, you have to have great respect for those in leadership positions all over the country and in our government. Like all great leaders in difficult circumstances, they will be trying to take the best decisions for those that they serve whilst simultaneously being concerned for their own health and their own families.
Another of our core values is determination; rising to the challenge and being the best you can ever be. This has never been tested so much as it is at the moment. Many people are showing real grit, turning up to work when they know this puts themselves and their families at greater risk, but their services are essential to keep the country supplied and healthy. We've seen The Corsham School staff make themselves available physically and online in a really determined fashion as we try and find our way through the new evolving world of education through online working, and also making sense of the removal of this summer's examinations.
Incidentally, like the Year 11 and Year 13 students and their parents, we are still waiting eagerly (and somewhat impatiently) for more news about the exact arrangements for this. We expected to hear more about the examination's arrangements during the course of this week but we now believe this is likely to be shared later today. Please understand that once released we will need a little time to digest this so that we can ensure that we are acting in the best interest of all students and we will be in touch as soon as we can over the coming days.
Well done all of you for keeping yourself busy physically and mentally. This is really difficult when you're confined to the house, but we have loved hearing reports of families working out to Joe Wicks in the morning and finding other imaginative ways to spend quality time together. I do believe we are growing as a nation of creative people and we will see an explosion of creativity when we get back to normal.
With the help of our amazing catering team, we continue to support our families eligible for Free School Meals each day by providing them with a lunch to collect or be delivered. Due to the hardship these families must be facing in the current circumstances, we are going to continue providing this service over the Easter holidays, even though we wouldn't ordinarily do this. We have also signed up each eligible family to the Government FSM voucher scheme launched yesterday and due to start after the Easter break. We will be in touch with these families with more information in due course.
Just in case our families eligible for free school meals didn't see our social media post warning this week I wanted to take the opportunity to again warn these families that we have been informed that some parents may have received an email stating the following: 'As schools will be closing, if you're entitled to free school meals, please send your bank details and we'll make sure you're supported'.
We can confirm that this is a scam email and urge parents not to respond and delete it immediately.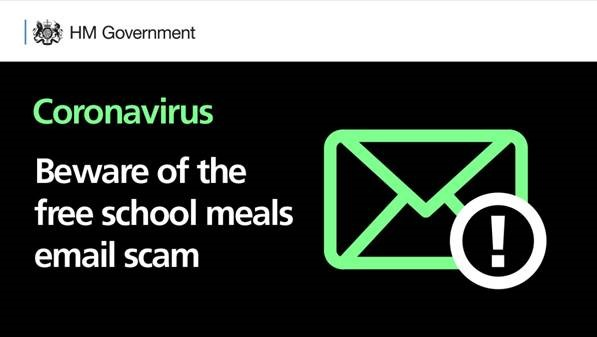 I've already mentioned the determination and resole of key workers but please remember that for the rest of the country the determination to remain at home is particularly important to contain the spread of the virus.
The Easter Break
Our Easter break begins on Monday 6th April. We feel that it is really important to preserve the sense of the Easter holidays and enable students, parents and staff to maintain the rhythm of the academic year; we all need a break. As such, there will be no expectation on students to engage in or complete any new Home Learning activities over the Easter holiday and staff will not be expected, setting or requesting submission of work/providing feedback or responding to parental/student communications over the same period. We have, however, shared a significant number of resources and links to wonderful opportunities for students to spend their time on over the break in really productive ways, but there is no set expectation of completion of work over the next fortnight.
We are also continuing our provision for critical worker children and vulnerable children over the
Easter holiday (excluding Good Friday and Easter Monday when we are completely closed) and I'm hugely grateful to our staff who continue to volunteer so willingly to do this. I would ask anyone fitting the criteria and planning to take up this offer over the Easter break to let us know by emailing Mr Chapman, Deputy Headteacher, via his email MChapman@corsham.wilts.sch.uk. Please be advised that Reception will be closed over the Easter break so if you are a critical worker parent or parent of a vulnerable child within our care and need to contact us please do so via the email link, above.
I would stress, however, that the clear advice from the government and the medical authorities, is that if people can stay safely at home, they absolutely should. This is especially true over Easter as this is expected to be the peak of the contagion.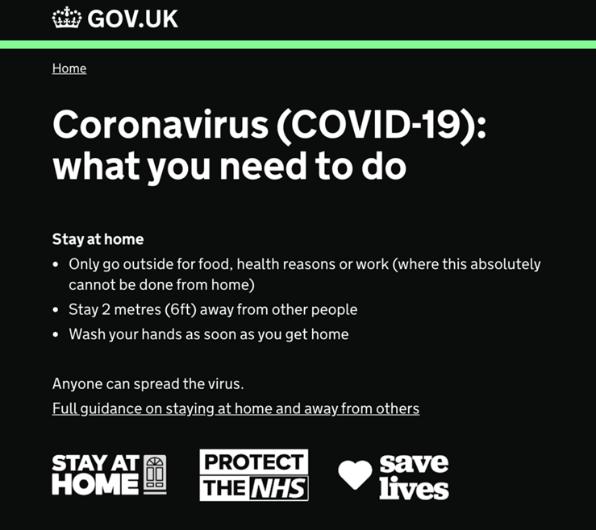 I've spent some time reflecting on the rainbow as it seems that communities across the world have united around the rainbow as a symbol of hope. The Rainbow itself is referenced throughout history and across many cultures and religions, almost always in a positive way. I was personally really encouraged when, after going for our family exercise walk last weekend, as I went past house after house with rainbows drawn and painted by children up in the windows and chalked onto the ground; a clear symbol of hope and positivity that we are giving to each other in times when socialising face to face has had to stop.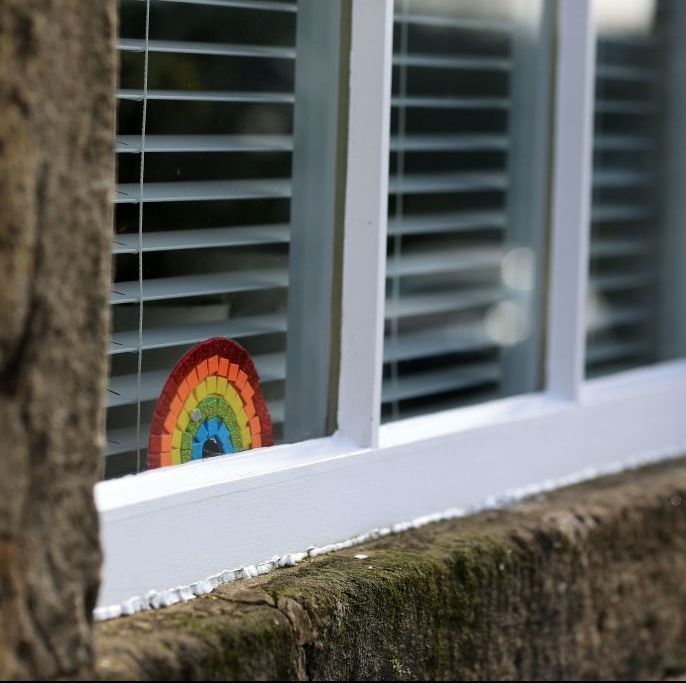 We need to encourage hope and positivity at this difficult time. There are some silver linings in the cloud. Firstly, I believe the examination system will undergo a radical change, at least for this year and possibly for next year, but hopefully moving forward beyond that. We have known for some time that having such high pressure put on young people to perform in one exam is damaging for their mental health. Hopefully the powers that be will see that teachers can reliably assess their students and should be trusted to increasingly do so as many other countries already do.
Family relationships will inevitably experience some stresses and strains as people live more together than they ever have for longer periods of time. However, we have seen an explosion of creativity, mutual support and love developing through this adversity. The bonds that have been strengthened will continue long after things have returned to normal.
We are already beginning to plan for the summer term in the eventuality that this closure continues. We do not know if this will happen, but sensible schools and institutions are making plans for this. We will continue to adapt to find new ways to teach and review work, offer extra-curricular and leadership opportunities to our young people, and really put the responsibility and importance of learning back to the people it belongs with; namely our young people. We have already trained and implemented a bigger online learning programme than in the last decade and this looks set to continue in an exciting way. Thank you for all the feedback you continue to provide, we will be surveying more about what works and what doesn't work in the future.
It is hard, at this point in time, to gain much (if any) perspective on the events of the last three weeks. What we do know is that our lives are not going to return to 'normal' anytime soon, and that the coming weeks are going to be hard for all of us. In these moments, it is often acts (often small) of kindness and generosity that see us through, in families, between neighbours and reaching out across communities. I've seen that on an unprecedented scale in our community these weeks from staff, parents and students, and it's been truly humbling. I feel very proud to be a part of it.
Finally, as these strange days go on, I don't know about you but I find the rollercoaster of emotions is one of the most surprising aspects. This week I happened to stumble upon this quote from 'Winnie the Pooh', capturing that sense we've all rediscovered of how important the people in our lives are: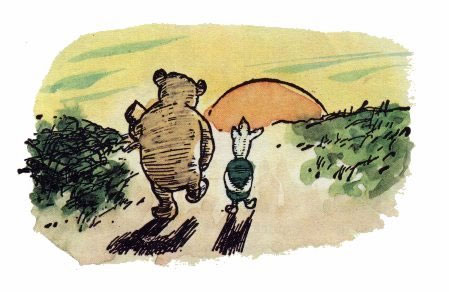 "Pooh!" he whispered.
"Yes, Piglet?"
"Nothing," said Piglet, taking Pooh's paw.
"I just wanted to be sure of you."
Please remember that although we might not be physically in the building, the staff of The Corsham School are still there for you. Please continue to stay in touch with us as often as you need and we will do whatever we can to help and support our community.
Wishing you all, every health and hope this Easter, can I offer my immense thanks for all
your support and generosity in these difficult times.
Look after yourselves and those around you.
Kind regards,
Rod Bell - Headteacher